AUTONOMOUS WORK
PUINHOOP (?),
TABULA RASA (2018),
FULFILL (2018),
DIA-BOEK (2018)
,

WE KUNNEN LIEGEN OVER WAAR WE ELKAAR ONTMOET HEBBEN (2018),
TINDERDIALOGEN (2017),
MONTAGE (2017),
GULTIGKEITSDAUR (PERIOD OF VALIDITY) (2017),
ACCIDENTAL MEETINGS AND FLEXIBLE BORDERS (2017)
,

A701 (2016)

,

EEN PLEIDOOI VOOR MEER RUIMTE ZONDER BESTEMMING (2016)

,

PLEASE RETURN THIS BAG TO A PARTICIPATING STORE FOR RECYCLING (2015)

,

1100 GULDEN, EEN PAKJE SHAG EN EEN AANSTEKER (2015),
THE FRIENDS PROJECT (2012 - ONGOING)
A701
(2016)

book

21 x 29,7 cm
180 pages
hardcover
As a Dutch citizen you are always connected to the bureaucratic system. This system structures and limits the lives and opportunities of everyone; it is the context in which we live. We are confronted by the system almost daily, yet at the same time it is hard to detect. It is like a massive machine that is soundless and invisible, yet ever present. To have any real influence is virtually impossible: as citizens we cannot speed-up, change or ignore the procedures. We will always be subordinate.
File A701 is an investigation into this bureaucratic system. An attempt to investigate and clarify the system, and determine whether we, as citizens, can have any influence. It is important to be aware of the system that we are all part of. Knowledge ensures a less inferior position and therefor creates more opportunity.

However, this file is incomplete: bureaucracy will never show itself completely. It seems to have been made to be impenetrable and that is exactly what triggers me to try and penetrate it.
In this file the bureaucratic system has been studied by focussing on the relationship between citizens and the municipality.

Scroll down for a video documentation of A701.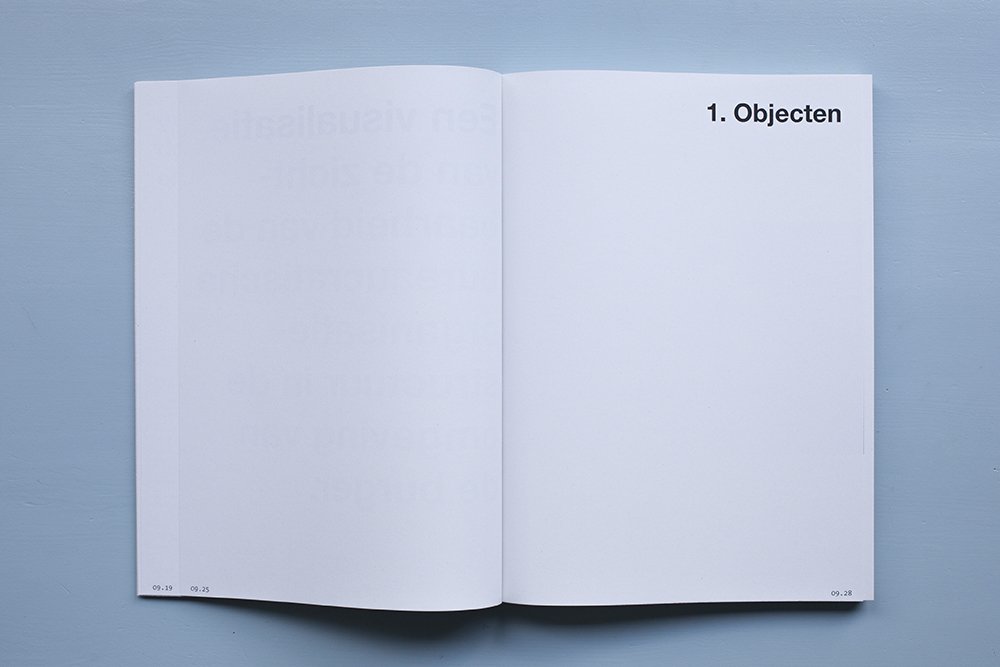 The pagenumbers are based on the office time between 9 am and 5 pm.
Video of the book.