GÜLTIGKEITSDAUR (PERIOD OF VALIDITY)
(2017)

mixed media
Exhibition in Foundation B.a.d. Rotterdam, July 2017

works by Karin Arink, Marijke Appelman, Selma Hengeveld
text work Natasha Rijkhoff
curated by Selma Hengeveld

The exhibition centers around evoking memories. Memories of a very recent journey and memories of a working process from long ago. The different circumstances, the unforeseen meetings and the developments and insights that were created then. As makers we go forward while keeping the things that are left behind in mind. The same goes for this exhibition, which will inevitably turn into a memory.

Selma Hengeveld has documented a short journey using photographs, receipts, flyers and notes, and has translated these into a special remembrance document. This way a different journey appears; a new reconstruction of real events. The work blurs the borders between fact and fiction and investigates the function of a scrapbook as a means to hold on to memories.

Apart from her own work, Selma selected works from Karin Arink and Marijke Appelman. Out of their oeuvre she has chosen work that was made a long time ago, which will now make connections with her own new work.

Natasha Rijkhoff makes and writes and will add to the exhibition with words.


POSTCARDS TO A DOOR
36 postcards with handwritten messages

A picture of a door in Munich, devided in 36 postcards. Visitors were ask to leave a message for the unknown receiver of the postcards and owner of the door. The next step in the work is sending the postcards back to this door. This work is ongoing.
STUDIE NAAR DE ZWARTE BANAAN BIJ THUISKOMST
(STUDY OF THE BLACK BANANA AFTER COMING HOME)

photoprints

5 colour photoprints
29,7 x 21 cm
STRETCHY OUR VIEW
collage

eight posters
59,4 x 84,1 cm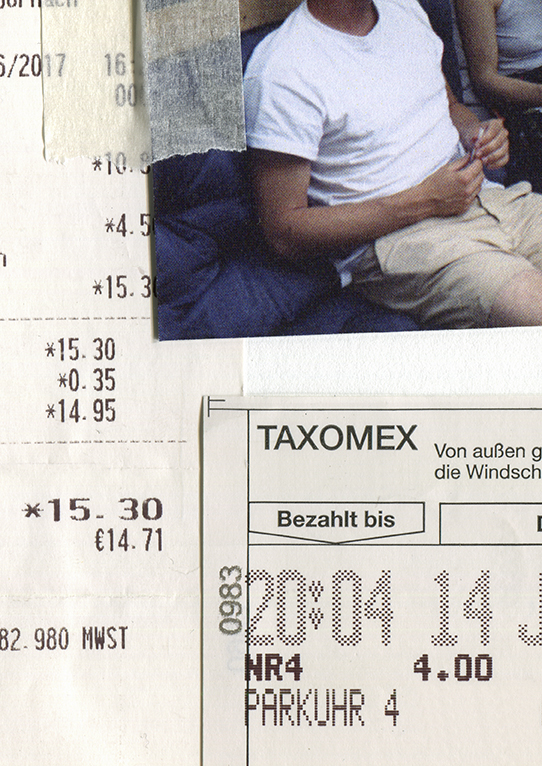 selection of the 8 posters


Karin Arink
Marijke Appelman

Natasha Rijkhoff